Yesterday I warned that the Fed is "pulling the plug" on the markets.
The explanation for this is simple. The primary driver of the stock market since the March bottom has been the EXTRAORDINARY amount of liquidity the Fed has pumped into the financial system
All told the Fed has printed over $3 trillion and funneled it into the financial system since February.
THIS is what has pushed stocks straight up week after week.
Which is why everyone should be concerned that the Fed has stopped doing this. Indeed, as I noted yesterday, the Fed has shrunk its balance sheet since the beginning of June.

It is not coincidence that the S&P 500 peaked around that date.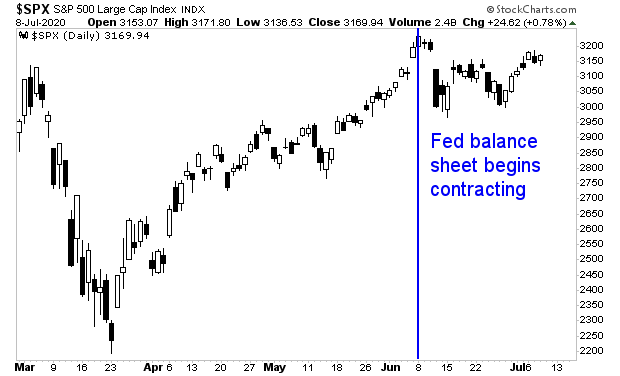 Which is why yesterday's Fed release should give every investor "pause."
Yesterday the Fed revealed that it shrank its balance sheet by a whopping $88 billion. Of this, $46 billion was in currency swaps (this is to be expected). Which means…
The Fed drained $42 billion in liquidity from the financial system last week. This comes on the heels of the $24 billion the Fed drained from the system the week before and brings its balance sheet back below $7 trillion.
What do you think will happen to stocks when they wake up to the fact the Fed isn't providing weekly liquidity pumps to the tune of $25 billion or more?
Hint: it won't be pretty.
In light of this, we've reopened our Stock Market Crash Survival Guide to the general public.
Within its 21 pages we outline which investments will perform best during a market meltdown as well as how to take out "Crash insurance" on your portfolio (these instruments returned TRIPLE digit gains during 2008).
We made 100 copies available to the public.
As I write this, there are 17 left.
To pick up your copy of this report, FREE, swing by:
http://phoenixcapitalmarketing.com/stockmarketcrash.html
Best Regards
Graham Summers
Chief Market Strategist
Phoenix Capital Research