The financial media continues to talk about how Europe is saved.
It's odd that somehow everything is starting to look so much better now than Angela Merkel is up for re-election in Germany. Could it be coincidence that the worst Crisis in years suddenly went away right as the women with her finger on the "bailout" button needed to convince German voters that she's doing a great job?
Remember, politics drive everything in Europe, including the markets (Spain's political scandals had a bigger impact on the Spanish Ibex than a myriad of horrific economic data). Which is why everything is on hold until the German election ends next month.
Meanwhile, underneath this veneer of calm, things worsen. Recently…
Italy's non-performing bank loans rose 22% year over year in May (the most recent data)

Spain' real non-performing loans are at 17%.

The IMF predicts Spain's unemployment will be over 25% for five years.

Total EU youth unemployment just hit a new all time high, almost 25%.

Cyprus just OK'd the theft of 47.5% of all deposits over €100,000 at its troubled banks (yes, people just lost nearly half of their savings).
The European markets look equally ugly.
Spain's Ibex has traded sideways since late 2012. It's now coming up against major resistance. We'll see how that turns out.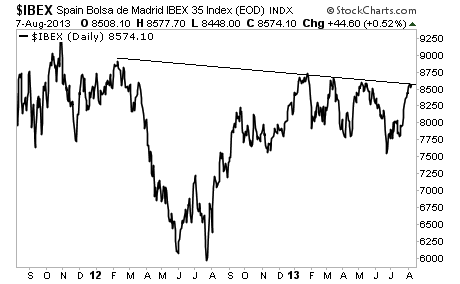 Germany's Dax is forming a massive bearish rising wedge pattern.
This market needs to explode to the upside or we're going to see a correction that erases all of the gains since mid-2011.
The same is true of France: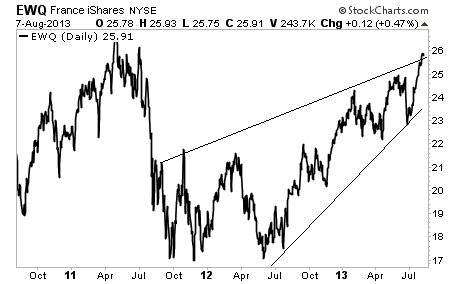 Again, we need a parabolic rise now or this is a false breakout and France's shares are heading lower.
We've all seen how false hopes work out for the markets: BADLY. Given that Europe is beyond bankrupt at this point, I fully expect that that the EU Crisis will be back with a vengeance very shortly. When you consider that the entire EU banking system is leveraged at 26 to 1, it's clear that there's only one outcome possible here: implosion.
Folks, there is no other way to put this… the markets are in a massive bubble. And when it bursts, things will get ugly very FAST.
With that in mind, I've already urged my Private Wealth Advisory clients to start prepping. We've opened six targeted trades to profit from the stock bubble bursting.
We've also taken care to prepare our finances and our loved ones for what's coming, by following simple easy to follow steps concerning our savings, portfolios, and personal security via my Protect Your Family, Protect Your Savings & Protect Your Portfolio reports.
I've helped thousands of investors manage their risk and profit from market collapses. During the EU Crisis we locked in 72 straight winning trades and not one loser, including gains of 18%, 28% and more.
In fact, we're currently on another winning streak having locked in ELEVEN winning trades in the last two months, including gains of 21% and 25%.
All for the small price of $299: the annual cost of a Private Wealth Advisory subscription.
To take action to prepare for what's coming… and start taking steps to insure that when this bubble bursts you don't lose your shirt.
Yours in Profits,
Graham Summers