It never fails.
Any time the $USD begins to rally, even a little bit, the deflationists come out in full force proclaiming that it's the start of some major bull market that will blow up the financial system.
Take this latest bounce in the $USD.
Having staged one of the worst annual returns in years in 2017 (down over 14%), the $USD was BEYOND oversold. Throw in the fact that traders were RECORD short the $USD and record long the Euro, and the stage was set for a $USD bounce.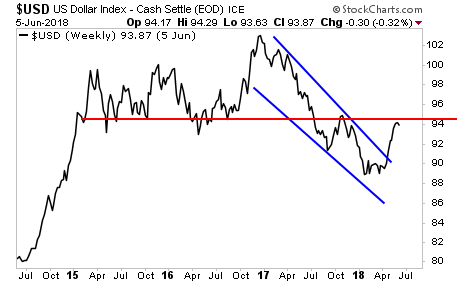 That bounce is now OVER. The $USD has slammed into major resistance. And anyone who thinks that the US currency is going to explode higher when the ECB is about to ends its QE program needs their head examined.
—————————————————————-
That Makes SEVEN Straight Double Digit Winners!

Our options trading system is on a HOT streak, having locked in EIGHT double digit winners in the last four weeks.
Don't believe me?
You can see EVERY trade we've made this year HERE.
As a result we're now up 43% this year alone.
Best of all, this system couldn't be easier: we only trade one trade, once per week… and we're CRUSHING the market.
To join us today, take out a 60 day trial subscription.
If you're not seeing SERIOUS returns within the first 60 days, we'll issue a full refund, NO QUESTIONS ASKED.
To take out a trial subscription…
—————————————————————-
Instead, the next move will be the $USD breaking down to the mid-80s.
And this move is going to send risk assets, especially inflation/ reflation trades THROUGH THE ROOF.
On that note, we just published a Special Investment Report concerning FIVE secret investments you can use to make inflation pay you as it rips through the financial system in the months ahead.
The report is titled Survive the Inflationary Storm. And it explains in very simply terms how to make inflation PAY YOU.
We are making just 100 copies available to the public.
To pick up yours, swing by:
https://www.phoenixcapitalmarketing.com/inflationstorm.html
Best Regards
Graham Summers
Chief Market Strategist
Phoenix Capital Research