---
It is looking increasingly as if the bottom is in.
At the March lows, the percentage of stocks trading below their 200-day moving averages hit levels associated with major bottoms (think 2002 or 2009).
This doesn't mean we couldn't revisit the lows… but it does suggest that we won't see levels much lower than those of late March.
————————————————————
Get a LIFETIME Subscription to All Of Our Products For Just $5,000
An annual subscription (1 year) to all of our current newsletters costs $3,500.
But today, you can get a LIFETIME subscription to ALL of them, along with every new product we ever launch, for just $5,000.
Today is the last day this offer is available.
To lock in one of the remaining slots…
———————————————————–
Indeed, have ramped 30% from their lows in late March. Every dip has been bought aggressively or resulted in a consolidation that was then resolved upwards with great energy.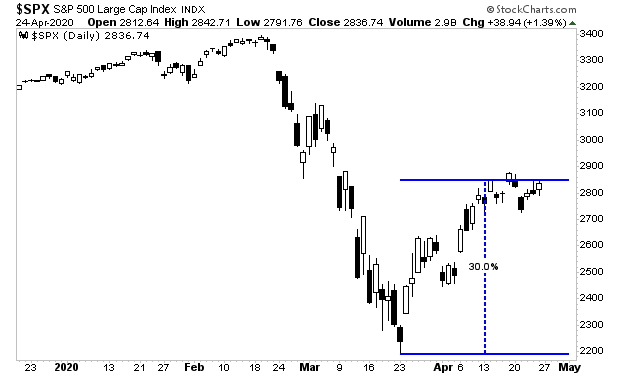 Historically, the faster and larger the bounce following a crash, the less likelihood that we fall to new lows or crash further in a big way.
Now, before you get frustrated with me, let me say that I'm well aware that the stock market bottomed due to Fed intervention and that the Fed is manipulating everything.
I'm NOT saying I agree with what the Fed has done, nor am I saying it was the right thing to do.
Whether the person buying the stock market is someone like you or me, or it's the Fed, doesn't matter. Buyers are overpowering sellers time and again.
After all, if the Fed wants to force the market to rise, which would you do… say it's fake and sit on losses or use the Fed's policy to make money for yourself and your family?
As I keep saying time and again, it's not what we think that matters, it's what the market thinks. And the market thinks we're going higher for now.
That also think the Fed and other central banks are going unleash an inflationary storm. Gold is breaking out in every major currency.
On that note, we just published a Special Investment Report concerning FIVE secret investments you can use to make inflation pay you as it rips through the financial system in the months ahead.
The report is titled Survive the Inflationary Storm. And it explains in very simply terms how to make inflation PAY YOU.
We are making just 100 copies available to the public.
To pick up yours, swing by:
https://www.phoenixcapitalmarketing.com/inflationstorm.html
Best Regards
Graham Summers
Chief Market Strategist
Phoenix Capital Research