Gold is preparing for a major move in the next two to three weeks.
The precious metal is in a large multi-month triangle formation. The coming move will be violent when it hits.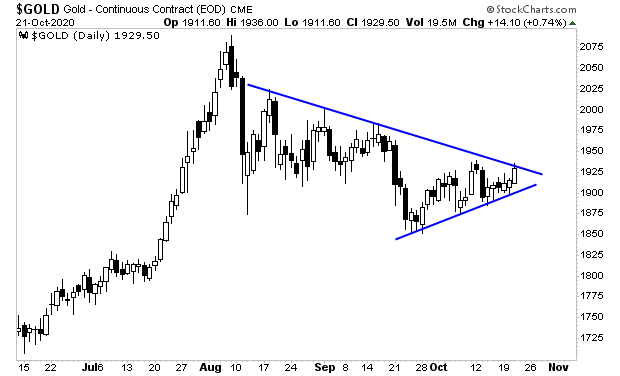 As I've noted preciously, during inflation-driven bull markets in gold, gold miners typically outperform the precious metal. For this reason I like to track the gold miners to gold ratio (GDX: $GOLD).
When gold miners outperform gold, this ratio rises. When gold miners underperform gold this ratio falls.
As you can see, the GDX: Gold ratio is in a clear bull flag formation. This is EXTREMELY bullish and signals that we are about to see an explosive move in which gold miners driver higher, outperforming even gold. We just need a final breakout to the upside.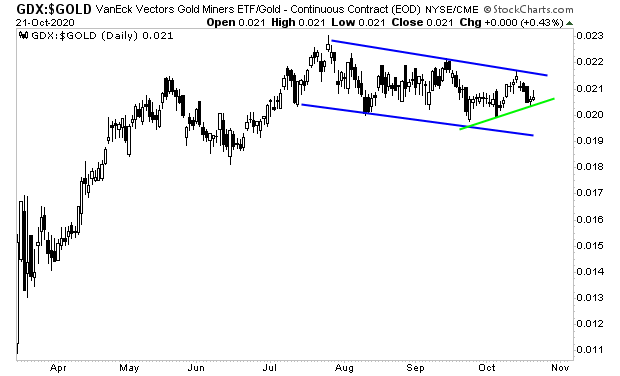 Another key feature of bull markets in precious metals is that silver outperforms gold. With that in mind, I also like to track the silver to gold ratio ($SILVER: $GOLD).
When silver outperform gold, this ratio rises. When silver underperform gold this ratio falls. Right now, it's in a large triangle formation as well. Given that it formed this triangle from below, this too suggests the move will be upwards, but again, it's a little early here.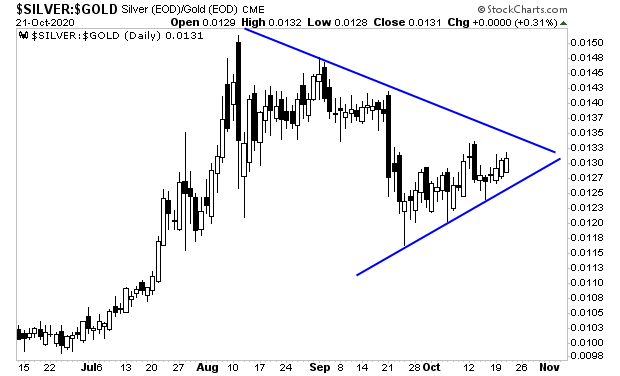 Again, this sector is showing us that a MASSIVE move is coming. With the right investments, it could mean windfall profits for investors.
On that note, we just published a Special Investment Report concerning FIVE secret investments you can use to make inflation pay you as it rips through the financial system in the months ahead.
The report is titled Survive the Inflationary Storm. And it explains in very simply terms how to make inflation PAY YOU.
We are making just 100 copies available to the public.
As I write this there are just 29 left.
To pick up yours, swing by:
https://www.phoenixcapitalmarketing.com/inflationstorm.html
Best Regards
Graham Summers
Chief Market Strategist
Phoenix Capital Research